EXCLUSIVE
By James Stent
An "IT issue" at a major manufacturer was partly to blame for recent price hikes and shortages of atorvastatin, executive director of the Healthcare Distribution Association (HDA) Martin Sawer told C+D in an exclusive interview earlier this month (Aug. 17).
Read more: Wholesalers: Media 'horror stories' cause 'self-fulfilling' shortages
One atorvastatin manufacturer experienced an IT problem earlier this year that caused "a blip in supply", Sawer told C+D, although he said that he was "not at liberty" to disclose which manufacturer suffered the IT issue.
Another contributing factor to the atorvastatin crisis, according to Sawer, was poor communication with wholesalers about changes to prescribing guidelines.
'Incentivized' prescribing
Wholesalers were caught unawares by changes to doctors' prescribing guidelines under their quality and outcomes framework (QOF) effected in April this year, he told C+D.
Sawer said doctors were "incentivized...to prescribe more atorvastatin" but that this "wasn't communicated efficiently" to the supply chain for the popular cardiovascular medication, which has been the most prescribed drug in the UK since 2020/21.
He added that the prescribing guideline changes would "presumably" have been known "some months ago. But no one in the supply chain seemed to be aware of that so the manufacturers got caught out [and] couldn't supply enough."
Sawer told C+D he has "made that concern clear" to the Department of Health and Social Care (DH) around a "failure of communication" when it comes to things like new policy for prescribing.
However, he said NHS England (NHSE) has been "trying to engage" with manufacturers and wholesalers on new clinical pathways, adding that the commissioners' work on hormone replacement therapy (HRT) demand has been "really impressive."
HRT medicines have been in short supply for many months, with a number of serious shortage protocols (SSPs) issued.
'Great concern' over medicines prices
Sawer conceded that the high prices seen with atorvastatin are "a great concern to pharmacy" if reimbursements are not at the level at which pharmacies purchase the drugs.
This, he said, was the result of the DH's system of "a commodity market that has produced low generic prices."
Over time, prices would fall with concessions in place and pharmacies "might benefit later on" but the "trouble" with concessions, which are issued after the fact, is that pharmacies are "always starting off dispensing at a loss," Sawer said.
Read more: Atorvastatin 80mg granted 13% price boost, CPE announces
A DH spokesperson said the department is "aware of supply constraints affecting atorvastatin tablets" and "working with wholesalers and all suppliers to understand what steps can be taken to improve the situation."
They stressed that deliveries "are continuing to be made" and that the DH is "closely monitoring the situation."
C+D also approached NHSE for comment.
Read more: 'Frustrating': DH 'imposed' atorvastatin 20mg and 80mg concessions, says CPE
Meanwhile, Sawer implored pharmacists to "understand what's behind" a shortage or price hike if they have a "gut reaction" telling them that wholesalers are "ripping [them] off" or that the wholesaler hasn't got stock.
Last week, C+D published the first part of its interview with Sawer, in which the wholesaler industry representative argued that surges in demand for certain drugs can be traced back to "firestorm" news stories that don't necessarily reflect market conditions.
He told C+D that pharmacists can fall prey to sensationalist media reports and place orders as a reaction to a reported shortage in what is a "self-fulfilling prophecy.
Atorvastatin crisis so far
Atorvastatin shortages and price hikes have been a concern for many pharmacists in recent months.
In July, the DH said that it was "closely monitoring" supply issues around atorvastatin following "pricing and availability" concerns raised by Community Pharmacy England (CPE).
And C+D revealed earlier this month that a snap poll of 182 pharmacy contractors found that nearly half were facing losses in excess of £1,000 on purchasing atorvastatin alone.
Read more: '4-figure loss': Pharmacy contractors rage at atorvastatin crisis
One pharmacy owner who spoke to C+D reported they were facing losses of £15,000, as well as the loss of "hundreds" of working hours due to the knock-on effect of the atorvastatin price hikes and shortages.
Last week (Aug. 25), CPE announced the third price concession update for this month, in which atorvastatin 10mg tablets were granted a concession price of £2.05 for a pack of 28.
On Aug. 22, the second update listed atorvastatin 20mg tablets at £2.75, while the first update listed atorvastatin 40mg tablets at £2.38 on Aug. 18.
[N]o one in the supply chain seemed to be aware of that so the manufacturers got caught out [and] couldn't supply enough.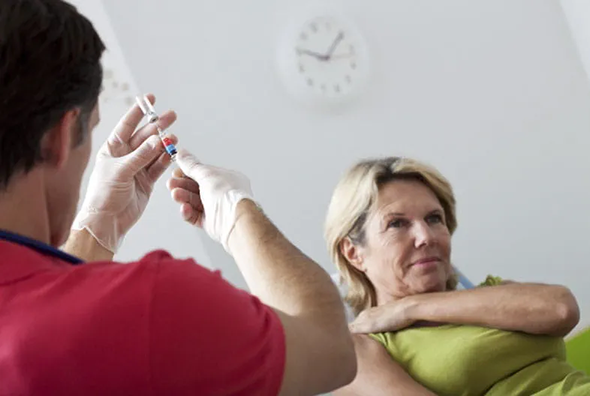 OCT 02, 2023
'No Plans' to Reinstate Free Flu Jabs for 50- to 64-year-olds Despite Uptake Drive
The UK government has confirmed that it has "no plans" to expand eligibility for the National Health Service (NHS) flu vaccination program despite urging uptake amid an increase in flu-related deaths.