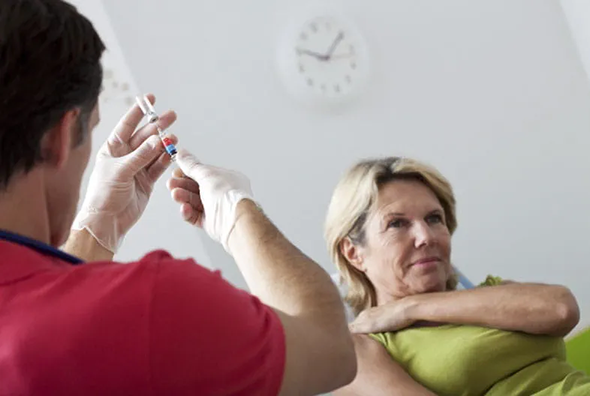 EXCLUSIVE
By Kate Bowie
Speaking at a briefing last week (Sept. 29), UK Health Security Agency (UKHSA) chief medical advisor Prof. Susan Hopkins urged people eligible for free flu vaccines to take up the offer, highlighting recent statistics on excess deaths in England associated with flu ― which last winter were the highest they had been in five years.
Hopkins said that UKHSA knows people age 65 and older are likely "to come forward for their flu vaccine every year," but that it sees "a lesser uptake in other groups."
Read more: Government scraps free flu jabs for 50-64-year-olds in 2023/24 season
And deputy chief medical officer (CMO) Dr. Thomas Waite set out a "plea" to "improve vaccination uptake amongst pregnant women" and "children" specifically.
But a spokesperson from the Joint Committee on Vaccination and Immunisation (JCVI) told C+D today (Oct. 2) that "there are currently no plans to expand eligibility beyond the criteria that's already been set out."
Read more: Flu wars: Which pharmacy chain is offering the cheapest jabs this season?
Earlier this year, the government announced that eligibility for free flu jabs would return to "pre-pandemic" arrangements, meaning that people aged 50-64 are no longer eligible.
The JCVI keeps the autumn flu and COVID-19 vaccination programs "under review," the spokesperson added.
Extra support?
Meanwhile, when asked about additional support for pharmacies offering an NHS flu vaccination service in light of the drive to increase uptake, NHS England (NHSE) pointed to previous announcements on COVID-19 vaccination incentive payments.
It told C+D last week (Sept. 29) that pharmacies will still be able to claim additional "acceleration" payments for certain COVID-19 vaccinations administered in October, introduced at the end of August after the vaccination service timings were revised.
Read more: Number of pharmacies offering NHS COVID-19 jabs rockets to almost double
Responding to C+D questioning at last week's briefing, NHSE chief delivery officer and national director for vaccinations and screening Steve Russell said the government was also "not intending to use volunteers to vaccinate in a mainstream way this year."
He said that "the program is being delivered through larger community pharmacies, GP practices and hospital trusts, who have put in place staffing of their own."
Read more: Chaos and confusion: Sector leaders slam 'shambolic start' to autumn vaccinations
However, this autumn's free NHS COVID-19 and flu vaccination services have been met with upset from those in the pharmacy sector.
Community pharmacy leaders criticized "short notice" changes to the start date of the services last month, warning that it "created confusion for pharmacy teams trying to make plans and for the public."