A major US pharmacy retail chain joined Citeline Connect, an industry-first patient referral collective, to help recruit for COVID-19 vaccine trials. In doing so, it carried out its corporate mission ― and realized over $2 million in revenue from its referrals.
You can also download the PDF by clicking the button below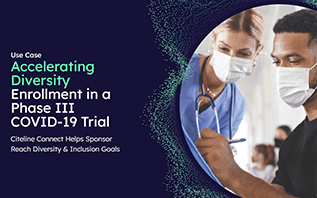 Use Case
患者エンゲージメントとリクルート
Accelerating Diversity Enrollment in a Phase III COVID-19 Clinical Trial
A biotech need to rapidly meet diversity/inclusion goals for a high-profile Phase III COVID-19 trial. Citeline Connect helped the sponsor recover from a 72% decline in diversity-focused randomizations, delivering 20-25% of daily randomizations in 32 days.