Since the COVID pandemic, the acceptance and adoption of decentralized clinical trials (DCTs) have become widespread, and sponsors are likely to continue employing them in the future. Both the US Food and Drug Administration (FDA) and European Medicines Agency (EMA) recognize the benefits of DCTs.
---
In May 2023, the US Food and Drug Administration (FDA) issued a draft guidance on decentralized clinical trials (DCTs) aimed at supporting the use of such trials for drugs, biologics, and devices. This updates an FDA guidance issued in 2020 during the pandemic and follows a set of DCT recommendations issued by the European Medicines Agency (EMA) in December 2022.
Both the FDA and EMA recognize the benefits of DCTs. In a press release announcing its guidance, the FDA says allowing some or all trial-related activities to take place in participants' homes or other convenient locations "will increase the breadth and diversity of participants in clinical trials and improve accessibility for those with rare diseases or mobility challenges." By doing so, DCTs "will facilitate the development of drugs including in areas of medical need, resulting in more treatment options and improved patient outcomes."
And in its announcement announcing the December 2022 recommendations, the EMA says DCTs intend to make it easier for people to participate in trials by reducing the need for travel. "This approach has the potential to make clinical trials available to a wider demographic of participants and reduce drop-out rates," the EMA says. However, it emphasizes that its recommendations are meant to "facilitate the conduct of [DCTs] while safeguarding the rights and well-being of participants as well as the robustness and reliability of the data collected."
As these guidelines are being issued, the implementation of DCTs has slowed down somewhat from its peak during the pandemic years. According to a 2023 Florence Healthcare survey, 66% of sponsor and CRO respondents are using DCTs to support at least one clinical trial, down from 89% in 2022.1
Figure 1: Sponsor and CRO Deployment of DCTs, 2023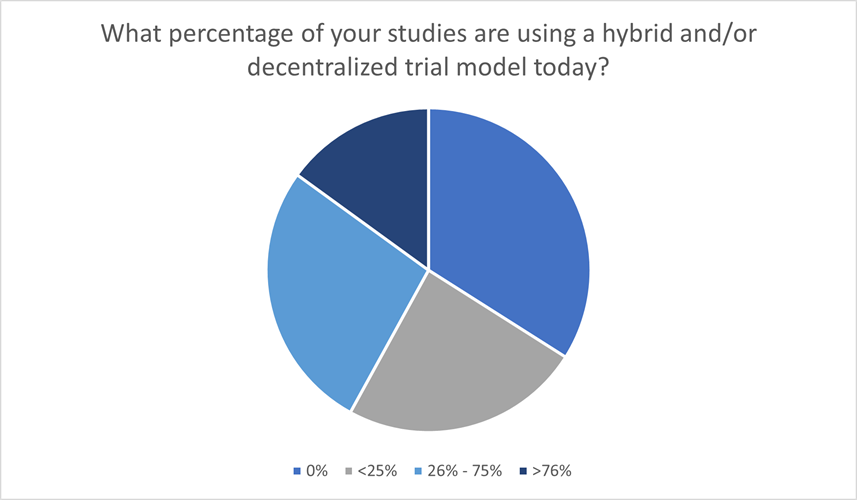 Source: Florence Healthcare1
Figure 2: Sponsor and CRO Deployment of DCTs, 2022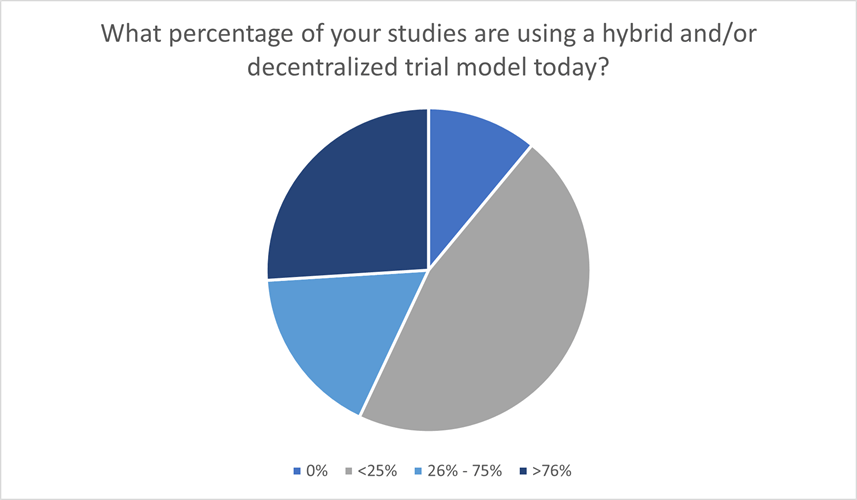 Source: Florence Healthcare1
Even with the slowdown, two-thirds of respondents are still incorporating DCT models. This shows just how widespread the acceptance and adoption of DCTs have become since the pandemic. And given the advantages they present, particularly for patient recruitment, sponsors are likely to continue employing them in the future.
The pandemic years and beyond
In a recent Citeline webinar, "Decentralized Trials: Where We've Been and Where We're Headed," panelists discussed how the pandemic spurred the evolution of today's DCTs and how the new FDA guidance will further influence them.
Lindsay Kehoe, senior project manager, Clinical Trials Transformation Initiative (CTTI), manages the development and implementation of CTTI projects. She has convened teams around disease progression modeling, embedding trials into clinical practice, and novel endpoints using digital health technologies.
Kehoe points out that while the pandemic boosted awareness and utilization of DCTs, they've actually been around for quite some time.
"Researchers were conducting feasibility studies of clinical trials over the internet in the early 2000s," she says. "And there was certainly an interest well before the pandemic hit for public/private partnerships like CTTI in the US and trials at home in Europe to start pulling together stakeholders to provide some clarity and develop resources around DCTs.
"I think we were starting to realize years ago that using decentralized approaches could potentially help with efficiency and access to provide more convenience. But I think what we're really talking about is modernizing clinical trials, thinking about new ways to design and conduct them. And the pandemic really heightened this opportunity for us to modernize trials."
Catherine Gregor is chief clinical trial officer, Florence Healthcare, a software company focused on connecting sponsors and sites worldwide. She is a subject matter expert and key opinion leader on patient-centric, decentralized, and hybrid trial design.
Before she joined Florence, Gregor says she was running a cancer clinical trial unit during COVID. "For us, I think DCT became more of a reality in that moment as it did for a lot of people who were in the clinical setting delivering care," she says. "I had heard about siteless trials and decentralized trial design. I was familiar with some of the work that was going on in CTTI. I worked in an academic institution, but that … wasn't something that I ever thought my team would do because we were taking care of sick people, and sick people need to come to hospitals. But suddenly during COVID we didn't have that option."
Gregor says to care for those patients, her team had to get creative, sending drugs to participants' homes and letting them do labs at their local pharmacy or retail clinic. They also had to figure out when it was essential to see the patient in the hospital.
"What we found out is that we could do all these really cool things with patients that kept them closer to home, and they stayed on the study," she says. "Our data wasn't compromised."
Gregor says some drugs for which trials were conducted during COVID have now been approved for market. "I think the entire industry now has a little bit of a mindset of we did a lot of interesting things during the pandemic and we're okay," she says.
"I think where we have to go from now is to separate the concept that 'that was a pandemic response' to 'that is truly how we should be conducting research in the modern era,'" she adds. "We need to rethink how we run clinical trials because the way we've run them to date does not work. It doesn't provide equitable access to patients who need care. We don't have the workforce to maintain it, and the majority of the US population doesn't live near major academic centers. So how do we drive into the communities? All of that's going to require us to get creative about how we run our trials and hopefully get a little bit more modern."
Jeff Thompson is senior director of strategic partnerships, GoodRx. Initially partnering directly with drug manufacturers to embed their patient support and affordability program into the GoodRx ecosystem, Thompson has since expanded the partnerships landscape, including clinical trial recruitment.
"One of the things that we saw at GoodRx during the pandemic was a proliferation, not just of telehealth providers, but of patients looking for a consolidated place to find these telehealth providers and really get treatment remotely for specific disease states that they might suffer from," Thompson says. "And I think seeing the adoption of patients leveraging technology and telehealth during that shutdown really bodes well for DCTs in the future because I think that practice of leveraging technology for healthcare, which had seemed pretty foreign to most people before the pandemic, is being more widely accepted."
Gregor agrees that this acceptance extends to patients as well as clinical staff. "Patients now are used to these modes of interacting with their providers," she says. "My grandfather got on his telehealth and has telehealth visits with the VA, whereas before I showed him a cellphone and he called it 'wicked magic.' So, we and the whole environment have moved forward in our acceptance of technology and clinical care."
Thompson says it is not just millennials born with the technology who have started to adopt it more. "It's across the entire patient landscape," he says. "So, I think … it really opens the door to how diverse we can get these patient populations in DCTs."
Change management is key
In her view, Gregor says, the biggest issue for everyone involved on all sides of DCTs is change management — "this concept of 'we're going to do things differently.'
"You have to convince people who are seasoned and have been used to running trials a certain way that they're going to do it differently," she says. "And that's at the site, at the sponsor, and the CRO. In my role now with my current company, I sit between both, and I have conversations with sponsors all the time about how you can do remote monitoring and still have access to your data. It is not going to impede the quality of that data. You don't have to go to a site every eight weeks to physically review the charts. And with sites, we have conversations about how you can let a patient get that routine care at a Walgreens … and it's going to be okay. It doesn't have to be delivered by us here in the hospital. That was the biggest barrier across the board that I've seen."
Kehoe says regulators have a lot of influence over change management. She adds that while progress has been made with the FDA draft guidance, there is still much to be done in terms of harmonizing different laws and regulations globally and statewide.
"I think that there's a lot of variation that still happens with things like telemedicine, distribution of study medication, remote monitoring, and data privacy," she says. "And I'm sure it still causes a lot of headaches for sponsors and CROs."
On a more positive note, Kehoe says, multinational groups like the International Conference on Harmonisation (ICH) are working at facilitating alignment, even if it is at a broad level focused more on general principles that support modernizing clinical trials. "I think there's still some bit of work to be done across state and country lines, and I'm sure many sponsors who … oversee regulatory policy know that global implementation of DCTs is not straightforward," she says.
Gregor notes that the European Medicines Agency (EMA) and the Medicines & Healthcare products Regulatory Agency (MHRA) in the UK have also put out guidance on DCTs, "but the local provincial guidance continues to create variation, which is challenging. I think that everybody is just now realizing that they need to say something," she says. "And then, how do we get everybody to say the same thing is where we're at from a regulatory perspective."
A higher standard?
When the FDA invited public comment on its DCT guidance, some expressed concern that the agency is holding DCTs to a higher bar than traditional trials because of concerns with data variability and some issues with trust.
"They do say in the guidance that variability and precision of the data from a DCT might differ from data in a traditional site-based clinical trial," Kehoe says. "I think the point here is that when we're modernizing clinical trial approaches, we are trying to think about new ways to conduct these trials and new considerations arise there. We have to think through, are there going to be areas of variability?"
Kehoe says when she read through the guidance, she took it as encouraging early engagement with regulators. "It's so important to connect with them and have discussions about methodologies early on in the review divisions," she says. "And in many ways, I commend the FDA in that they are opening up meeting opportunities to be able to have a bit more informal discussion about methodologies and approaches. I agree that there are probably some new considerations of them around variability, but I think regulators are open to have this discussion on how we might be able to adapt and account for those."
Gregor says she has been part of a couple groups that have provided comment on the FDA guidance, and that the acceptance of variability is clearly stated in the guidance.
"It also talks about the fact that standard of care can be conducted by healthcare providers in the community. They call that out," she says. "It doesn't have to be listed on the DOA [delegation of authority] in the [FDA Form] 1572, which I think is nice for all of us regulatory nerds at the site."
However, Gregor says there are some places where she feels the FDA, while moving to strike a balance, has tried to course correct in a negative way.
"The PI [principal investigator] being responsible for all oversight causes problems for third-party vendors," she says. "And the other piece is adding in this task list around delegating or capturing all the healthcare providers in the community who are touching patients. We didn't have that before and we were fine. Adding that in makes an administrative challenge for sites, and it actually is a disincentive to do that. So, how do we strike the right balance between making sure that we have taking care of patients to the best of our ability and demonstrated oversight, but not so in a way that we're de-incentivizing the progress?"
"There's certainly a level of flexibility there that I think we're trying to get at without it being too constrictive and burdensome, frankly, on trying to kind of cut through red tape," Kehoe says.
"I do commend a lot of the regulators for not just being behind the scenes writing guidance, but actually engaging in public-private partnerships and different consortia conferences to be informed and to continue to contribute to the dialogue being had," she says. "I think that's important for keeping them informed and also for reflecting their perspectives and opinions."
Kehoe references a paper from Medable and Tufts Center for the Study of Drug Development (CSDD) that listed return on investment for DCT approaches. According to the paper, the typical DCT deployment for a Phase II clinical trial results in a one-to-three-month time savings, yielding a net benefit up to five times greater than the up-front investment. For Phase III trials, a similar time savings gives a net benefit up to 14 times greater than the up-front investment.2
"When the value statement is produced like that, where there is actually financial return on investment, that's a big pull," Kehoe says. "I think it's just now getting over this hurdle of, okay, how flexible are the regulators? What do we need to be considering about from a risk proportionality standpoint? Where do the regulators stand at this? Where are still the gaps and the hiccups? And I think we're making progress. It's just a matter of keeping those doors open and the channels open to continue the conversation."
3 Ways to Ensure DCTs Receive the Necessary Ethical Scrutiny
DCTs can involve some ethical challenges, chiefly protecting participants' rights to safety, informed consent, privacy, and well-being. Also, care should be taken to make sure the DCT adheres to the same standards for scientific validity as any other trial.
To address these challenges, the following approaches are recommended:
Participant safety includes protection of informational privacy. To do so, those engaged in DCTs should use available tools to determine any risks to this privacy that may be present in the digital environment.
There should be transparency in the reporting of safeguards meant to help ensure ethical administration of DCTs.
Though guidance issued by drug regulators serves as the basis for ethical criteria for DCTs, input from national ethics bodies like data and safety monitoring boards would be welcome. These bodies should ensure they have expertise in digital health and DCTs
Source: Vayena E, Blasimme A, Sugarman J (2023) Decentralised clinical trials: ethical opportunities and challenges. The Lancet Digital Health 5(6), E390-E394. Available from
References:
1 Florence Healthcare (2023) 2023 State of Clinical Trial Site Enablement Technology Report. Available from https://florencehc.com/resource/2023-state-of-clinical-trial-site-enablement-technology-report/ [Accessed Oct. 16, 2023].
2Medable (2022) New Study: Decentralized Clinical Trials Can Achieve Net Financial Benefits of 5X to 14X, Due to Reduced Trial Timelines and Other Factors. [Accessed Oct. 18, 2023].